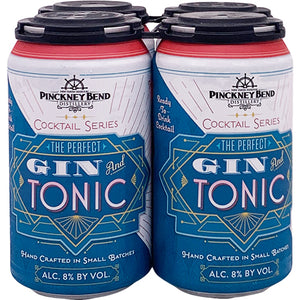 A Bommarito
Pinckney Bend-Gin & Tonic Cans
Regular price
$4.99
$0.00
Unit price
per
AVAILABLE FOR CURBSIDE PICKUP ONLY
Pinckney Bend Gin and Tonic is a unique Ready to Drink. Pinckney Bend's award-winning American Gin and Classic Tonic Syrup combined perfect harmony in this delicious pre-mixed cocktail. It is not your usual Gin and Tonic. It is fresher, bolder, and more complex than a commercial tonic water.
It is the only tonic syrup on the planet explicitly developed to harmonize with a companion gin's flavor profile. That's why it's so outstanding with Pinckney Bend American Gin. Put simply, the result of this union is the perfect Gin & Tonic. It contains 8% alcohol by volume. It has handcrafted at the distillery with no mixing necessary, just pour and drink!
Pinckney Bend Gin and Tonic Cans are perfect for trips, parties, or any time you need the on-the-go ease of a pre-mixed cocktail libation. Savor their premium gin with its crisp, light citrus notes, accentuated by Pinckney Bend's distinctive tonic syrup. It's the best of both worlds. Its a "river-ready" can for poolside or a friendly float trip. Enjoy!
4 pack
Single can
---