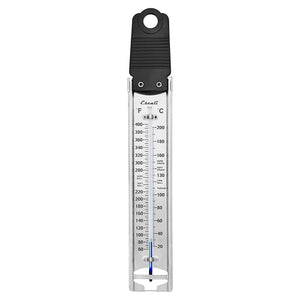 Escali
Escali Metal Paddle Candy/Deep Fry Thermometer
Regular price
$18.99
$0.00
Unit price
per
Temperature Range: 60° to 400°F / 20° to 200°C. Dimensions: 12.75 x 2 x 0.75 Inches

Hands-free: A stainless steel candy thermometer with pot clip for continuous hands-free measurements

Confectionary Temperature Zones: The paddle's face includes temperature indications for cooking candy to the perfect consistency; including thread, soft ball, firm ball, hard ball, soft crack, and hard crack markings

Protective Probe Guard: The stainless steel metal paddle protects the temperature probe from false readings against the cooking container and accidental breaks.

Heat Resistant Handle: The heat-resistant handle makes it easy to move the thermometer through the cooking process.
---